Festival Too Event in Norfolk
Since its inception nearly 25 years ago, Cloud One has been supplying sound, lighting and rigging to Norfolk's biggest music festival, Festival Too. Every year more than 12,000 people spend two happy weekends in the main market square of King's Lynn, taking in the sights and sounds of international rock and pop superstars, and it's all absolutely free of charge.
This year was no different, as Festival Too welcomed arguably it's biggest and most hyped act to date, The Vamps. With extra security brought in and even road closures to cope with the extra demand, The Vamps were joined on the bill by a multitude of local acts, plus other huge names including Gabrielle, Phats and Small, and New York disco superstars Odyssey.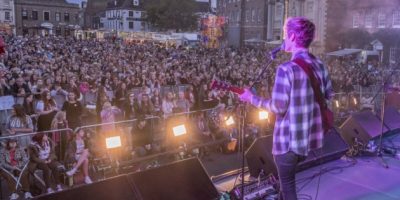 Extra rider demands had to be met for many of the acts, with the normal system being appended by various monitor and microphone specs to keep every act happy, not to mention the biggest radio plot the festival has ever seen. As expected, the shows were all resounding successes and we look forward to seeing who the guys at Festival Too have in store for us next year.
Categories:
Industry News